This article by Amy Konary, Chair of the Subscribed Institute at Zuora, was originally posted in IndustryToday
The unprecedented spread of COVID-19 has prompted organizations in all industries to reassess their business models. Where companies focused on traditional (and often stagnant) product sales have experienced difficulties scaling amid today's volatile market, those focused on building and engaging long-term customer relationships with recurring digital services have continued to grow.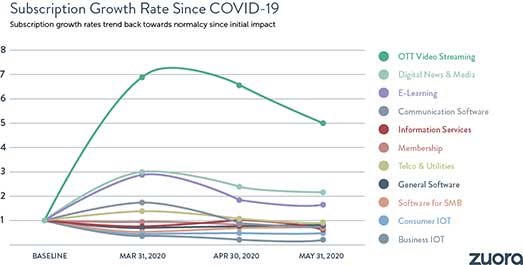 In fact, a new Subscription Impact Report, analyzing data for 700+ companies globally from March – May 2020, found that 4 out of 5 subscription businesses are still growing their subscriber base amid COVID-19: 50% are growing just as fast as they were before, while 18% are even seeing subscriber growth rates accelerate. And, while 17% of companies, including those in the IoT sector, are seeing a slower growth rate, they are still growing.
What's more, while the IoT sector, which encompasses industrial IoT providers, saw slower growth March – May 2020, it was the only sector that saw customer spending for existing subscriptions accelerate during the time period, with Revenue Per Subscriber growth increasing by 42%.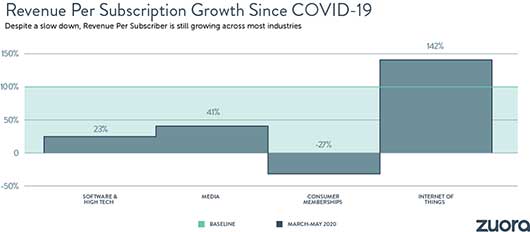 "So what?" you might ask. Well, this growth indicates that existing customers adopted, used, and invested more in connected services amid COVID-19, compared to the previous 12 months (February 2019 – February 2020), underscoring the heightened demand and opportunity for manufacturers to monetize connected devices.
A likely explanation could be that companies saw the gaps in the global supply chain illuminated by the current crisis and used IoT services as an easy solution to eliminate the human variable, turning to things like robotics, drones, and automation to take the place of humans for greater resilience in the event of a future outbreak (and to cut costs).
But the truth is, industrial IoT is at an inflection point and will only become more prevalent in the "next" normal.
We've already seen manufacturers like NCR, Caterpillar, Siemens, and ThermoFisher Scientific on a clear path of innovation when it comes to monetizing connected machines. Look no further than 136-year old NCR. In the company's latest earnings, they reported that recurring revenue is up 7% and now contributes to more than half (53%) of its business!
However, manufacturers must provide constant innovation and value to succeed in the long run and should consider the following strategies to drive the growth of any digital service:
Communicate Value Through Usage-Based Pricing
Research shows that companies that adopt some level of usage-based pricing, charging customers based on how much they use a product or service, grow faster than peers. In fact, companies with usage-based pricing making up between 1-25% of overall revenue grew by 25% YoY.
Pricing and packaging plays a critical role in the success or failure of a subscription service. If customers are left wanting more out of an offering (or needing less), you risk the chance of turnover.
For example, ThermoFisher Scientific makes sophisticated lab equipment, which it primarily sells to hospitals and research centers. Instead of selling the equipment, they offer cloud-enabled diagnostic services that allow customers to avoid big up-front equipment investments, and pay only for what they use.
Use Data Insights to Better Understand Customers and Optimize for Usage
One of the benefits of offering a recurring digital service is the incredibly rich customer data that manufacturers are able to glean — which can be used to further iterate and expand a digital service offering. The more a customer uses a service, the more manufacturers are able to learn to further understanding of customer preferences and usage patterns.
For example, Caterpillar produces connected machines with integrated sensors that gather data about usage. This data helps customers optimize the use of their fleets and reduce the overall cost of ownership. As a result, the company has new recurring revenue streams, closer relationships with their customers, and the largest connected fleet in the world, with more than 500,000 connected assets in the field.
React to Market Demands
The Subscription Economy is continuing to grow, and COVID-19 has accelerated the demand for digital services across a number of industries. Manufacturers must stay aligned to constantly changing market events in order to identify new areas of expansion for existing offerings.
For example, the connected automotive market is expected to grow by $6.85 billion by 2024, offering a slew of new opportunities for manufacturers to tap into new revenue streams. Recognizing the increased demand for connected technologies to transform the traditional in-car experience, Kia Motors America launched its UVO Link subscription offering.
At the end of the day, monetizing connected devices and machines via subscription services will ultimately ensure manufacturers can weather any economic storm or external market pressures. Manufacturers offering digital services must continue to assess their offerings and tailor pricing and packaging to meet ever-changing demands, while those that are looking to transform should look to industry leaders and first movers for inspiration.
For more insight into the Subscription Economy, review and download the Subscribed Institute's benchmark data here.